Tattoos are a beautiful form of self-expression. They allow you to use your body as a canvas to proudly tell your story.
Do you have an important date, a special person's name, your spirit animal, or an indigenous body art design inked on your skin?
Whatever style or design you've chosen, you need to develop a soothing skincare routine that hydrates and moisturizes your tattoos to keep them vibrant and distinct.
We developed KOYA Tattoo lotion to prevent your tattoo from drying and becoming dull and boring by helping you develop a simple and sustainable lifelong care routine.
Here's why you need to get your hands on this body lotion designed for active athletes with tattooed skin on show:
A high-performance lotion for when you're training hard
Formulated for both fresh and existing tattoo care
Great for on and off season
Tones and enhances the skin without leaving a greasy residue
Created in a conscious and ethical way that doesn't impact the planet
Table of Contents
What Is KOYA Tattoo Lotion?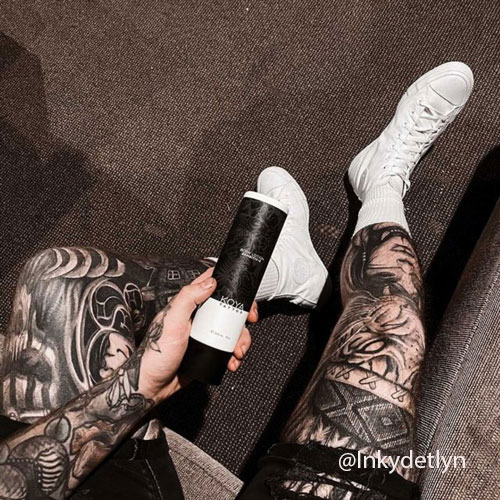 KOYA Tattoo lotion is a self-care essential; formulated for athletes and other sports professionals who train hard and want to have healthy, moisturized skin.
It leaves no residue or grease on the surface of your skin, meaning it's the best lotion for when you sweat.
Our lotion won't hold you back with your training. On and off season, you'll look comp-ready. No dry skin hiding your training gains, also ensuring your tattoos are well hydrated whenever you hit the spotlight.
Important Features of KOYA Tattoo Lotion
Feature 1: Made with 100% natural ingredients so it's suitable for all skin types, including sensitive skin.
Feature 2: Completely free of fragrance and chemical nasties to prevent irritation and infections.
Feature 3: Non-greasy and residue-free to prevent clothes from sticking to your tattoos or forming an oily residue that could impact your performance.
Why Should You Buy KOYA Tattoo Lotion?
Reason 1: It can be used on your whole body for daily moisturizing, not just to revitalize your inked skin.
Reason 2: It's non-sticky, and it doesn't form any slick when you sweat, which makes it safe for training.
Reason 3: It's made with the planet in mind; it doesn't contain chemical nasties nor animal byproducts and derivatives.
We are confident in the effectiveness of our body lotion for tattoo care thanks to the many positive reviews we've received over the 10 years we've been in business.
Advantages and Benefits of KOYA Tattoo Lotion
There's so much your skin and tattoos will thank you for when you make the KOYA Tattoo lotion your daily moisturizer. Below are the top 3 benefits.
1 - Soothes Freshly Tattooed Skin
Getting a tatt makes the inked skin sensitive and vulnerable to scarring and infections. So, you need a soothing moisturizer to ensure proper healing and support the body's natural ability to heal without scarring.
KOYA Tattoo lotion is made using 100% natural ingredients and no fragrances to reduce the chances of skin irritation or infection.
The key ingredients are rich sources of antioxidants, antibacterials, and anti-inflammatories to soothe the skin and support the skin's natural healing process.
2 - Performance-Level Skincare
KOYA Tattoo body lotion is made for you as an athlete and tattoo lover.
It provides you with maximum moisture absorption, meaning your skin won't get sticky or greasy during your most intense workout sessions, this ensures optimal performance and you get the most out of your training sessions.
Our tattoo lotion will also help to tone and improve the radiance of your skin all over your body, you'll not only see more muscle definition (as it won't be hidden behind dry scaly skin) and you'll give your tatts the color pop you didn't know you needed.
3 - Makes Your Tattoos Look New Every Time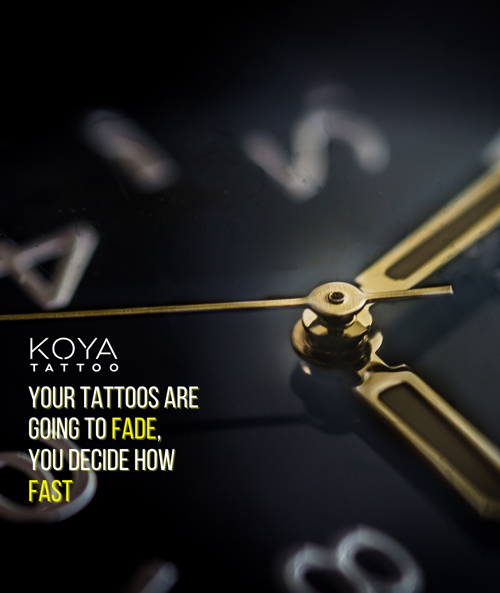 Over time, the colors on your tattoo will start to fade, the bold lines will blur, and your piece of art will lose its vibrancy. Because tattooed skin is damaged skin, hydration is essential to prevent scabbing and drying, which makes your tattoo dull.
The KOYA Tattoo lotion is a great moisturizer packed with ingredients such as horsetail and ginkgo biloba. These ingredients improve your tattoo's tone and make it shine brighter.
Vitamin E in the lotion also helps to keep your tattoo looking fresh thanks to its antioxidant properties.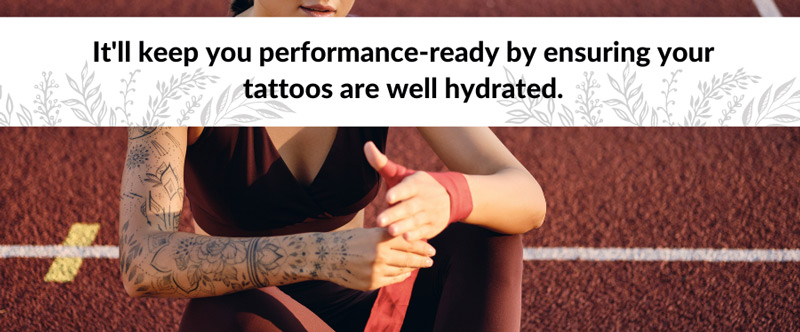 The Top 3 Features of KOYA Tattoo Lotion
KOYA Tattoo lotion has amazing features that make it suitable for everyday use on tattooed skin.
1 - Contains Soothing Natural Extracts
KOYA Tattoo lotion is made using high-quality natural ingredients.
Its vegan-based and fragrance-free formula provides you with silky smooth skin, and it will neither clog your pores nor leave you with a slippery residue.
These soothing benefits can all be attributed to the carefully selected ingredients discussed in the following table.
Ingredients
Benefits
Ginkgo biloba

Loved for its soothing and anti-inflammatory qualities
Helps the skin retain its beautiful glow and appearance

Horsetail

Helps to remove dead skin cells from the skin's surface
Minimizes the appearance of large skin pores
Known for its antimicrobial and antibacterial properties

Vitamin E

Visibly tones and energizes the skin
Helps with skin repair and restoration
These natural ingredients make KOYA Tattoo suitable for athletes with sensitive skin, and you could even use it on your kids (although we don't expect them to have tattoos.)
2 - Gentle on Sensitive Skin and Eco-Friendly
KOYA Tattoo lotion has been on the market for over 10 years (being used by athletes and dancers) and we've not been notified of any adverse reactions.
And we are proud to say it's not by chance. We've been very intentional in creating a product that's free of:
Artificial scents: Fragrances are common allergens, and we don't want the lotion to clash with your favorite perfumes.
Petrochemicals: Parabens or mineral oils are linked to skin toxicity, sensitivity, or allergies.
Animal derivatives or byproducts: We provide you with a cruelty-free and vegan-friendly product by avoiding these and any kind of animal testing.
We are also keen on caring for the world we live in, and that's why we use eco-friendly packaging in the form of post-consumer-recycled (PCR) plastics.
3 – Quickly Absorbed
Unlike tattoo balms or butter, which are not easily absorbed, KOYA Tattoo lotion is quickly and easily absorbed. Proper moisture absorption ensures your inked skin is deeply nourished and left looking soft and supple.
It also prevents any unsightly grease/oil on your skin that can both stain clothes and worse, runs the risk of equipment becoming slippery when you train.
Get Inspired by Our Customer's StoriesOur customers love this body lotion because it gives them a chance to tell their stories boldly. Here are some of their favorite things about KOYA Tattoo lotion:
Keeps the skin hydrated and tattoos looking fresh
Incredible product that caters to all your skin care needs
It offers smooth and effective aftercare for your tattoos
Very moisturizing and doesn't leave any residue
"Super moisturizing and doesn't irritate my skin. There's no scent, a little goes a long way and doesn't leave any residue."
- Samantha Poh
"Feels good on the skin and makes my tattoos look new every time."
- Melissa Beins
What Are Some Other Tips for Long-Term Tattoo Care?
Tattoo care starts the minute your tattoo is done and extends to the rest of your lifetime. Here are tips to help you effectively care for your tattoo after healing:
Clean your tattoo using a regular fragrance-free, antibacterial soap.
Exfoliate 2–3 times a week to get rid of the dry and dull skin.
Moisturize your skin regularly with KOYA Tattoo lotion.
Is It Possible to Over-Moisturize a Tattoo?
Yes, it's possible to over-moisturize a healing tattoo.
We say a tatt is over-moisturized when you apply too much lotion, balm, or ointment on it that forms a thick "protective" layer. It may even be worse when you do it more than twice in a day.
Unfortunately, over-moisturizing can be counterproductive to the healing process. Excess moisture can also cause the following problems:
Prevent the tattoo from drying and healing
Clog your skin pores and create a perfect environment for germs and bacteria growth
Tattoo inflammation, irritation, and infection
Breakouts on the tattooed skin
Use KOYA Tattoo as directed (i.e. daily after your shower when your pores are open). Wipe off any excess with a towel. You won't need to reapply through the day to see benefits. In fact, your skin hydration should start to show results in as little as 2 weeks.
Other Products for Athletes From KOYA Skin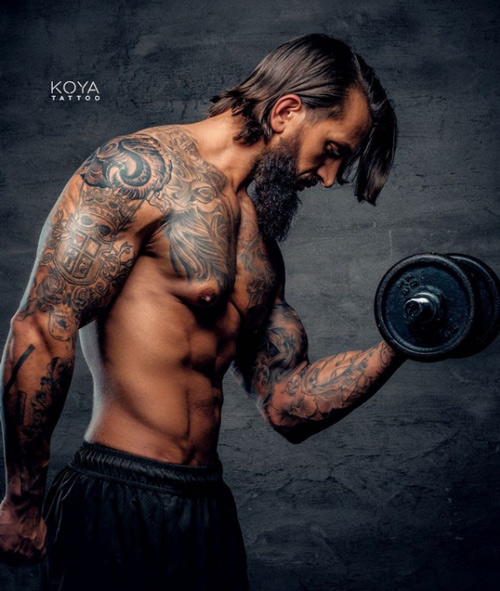 The entire KOYA Skin range of products is formulated to help performers and athletes achieve their best performance.
We'd like to recommend three more products that'll have you looking and feeling ready for the stage:
KOYA Luxe Tan lotion: A lightweight self-tanning lotion that'll help you conceal your body's imperfections and create an illusion of a slimmer silhouette.
X-Dry grip aid: A lightweight silicone-based gel grip formula that helps to reduce sweat and give you full control.
Winnie's RipFix: A balm that helps to maintain good calluses, prevent tearing, and keep you moisturized.
Grab Your First Bottle of KOYA Tattoo Lotion
KOYA Tattoo lotion will have you feeling great and confident in your skin (both on and off-season). It'll help you keep your tattoos bright and vibrant and ensure your whole body is well moisturized.
Use this high-performance lotion if you've had your tattoos for years and have realized that they're becoming dull. You can also use Koya Tattoo lotion if you just got new ink and want to avoid scarring, irritation, and infection.
No sticky or oily residue like traditional tattoo balms; try it today and enjoy well-hydrated skin!
Share on Facebook: