How do bodybuilders wear their hearts on their sleeves?
By getting sleeve tattoos!
A bit of a dad joke, huh? We might suck at cracking tattoo jokes, but we believe that tattoos (and jokes too!) are a cool way to express your emotions and tell your story.
As a bodybuilder, your built physique can leave you looking like a badass warrior or a classic strongman—an image you proudly show off after years of hard work and strength training.
Getting inked, however, adds layers to your personality and shows that there's more than meets the eye—you're also a passionate and laid-back son, brother, or family man.
With tattoos, you can pay homage to your roots, inspiration, or family that's stuck by you through thick and thin.
What's more, properly positioned tattoos are eye-catching and can show off your ripped contours.
Today, we'll share seven cool tattoos that are worth replicating and also highlight their:
Meanings
Inspiration
Strategic positioning that highlights your muscle gains
We'll also share an essential tattoo lotion to help soothe your tattoo during the healing process.
Table of Contents
1 - Tribal Tattoos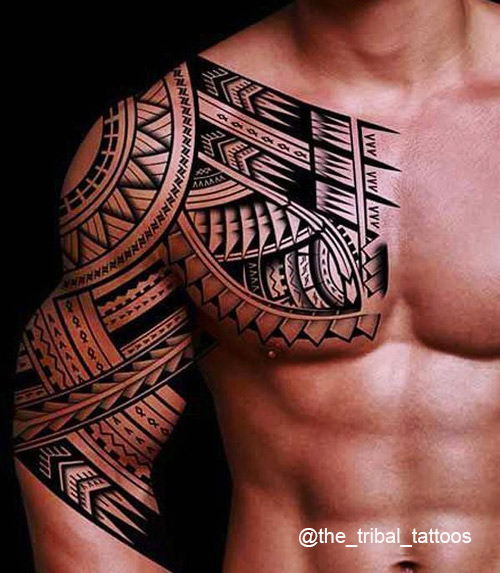 Show off your diverse cultural roots by getting a tribal tattoo.
Tribal tattoos are inspired by cultures that used tattoos as symbols of status.
They're often a combination of graphic symbols, styled in a modern design, making them look masculine and exotic.
This particular tattoo is inspired by the Polynesian culture and has two symbols in its design: spearheads and shark teeth. Spearheads symbolize warrior and masculine power, while shark teeth represent adaptability, strength, and protection.
In the Polynesian culture, the placement of the tattoo on the arm and shoulder represents strength and bravery.
The symbols are presented in geometric shapes, which symbolize balance, stability, and order. This tribal tatt is a great way to celebrate your ethnic heritage while telling the story of your determination and strength.
The two symbols are, however, not the only ones that you can get on your tribal tattoo. The table below highlights more graphic symbols you can incorporate into your tribal tatt and what they symbolize.
| | |
| --- | --- |
| Graphic Symbol | Meaning |
| Turtle | Good luck, endurance, and peace |
| Ocean | Life, changes, and continuity |
| Dolphins | Playfulness, friendship, and joy |
| Sun | Happiness, energy, and a bright spirit |
Copy this tatt and show off the bulk in your chest area, biceps, and triceps. The linear elements in the tatt will follow the curve of your muscles and help highlight your muscle gains.
2 - Dumbbells Tattoo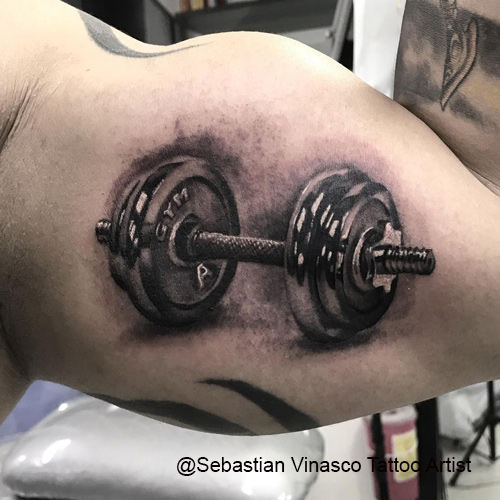 Fitness-inspired tattoos are a great way to show off your passion and dedication to bodybuilding while reminding yourself to stick to your gym routine.
This dumbbell tattoo, inked on the upper arm, represents the discipline, strength, and endurance required to get those muscle gains.
Getting this tatt inked on your upper arm will highlight the size of your biceps and peaks when you flex and draw attention to the arm musculature when your arms are at ease. It's also a sign of your dedication and passion for bodybuilding.
Some similar fitness-inspired tatts you can consider are:
3 - Clock and Rope Tattoo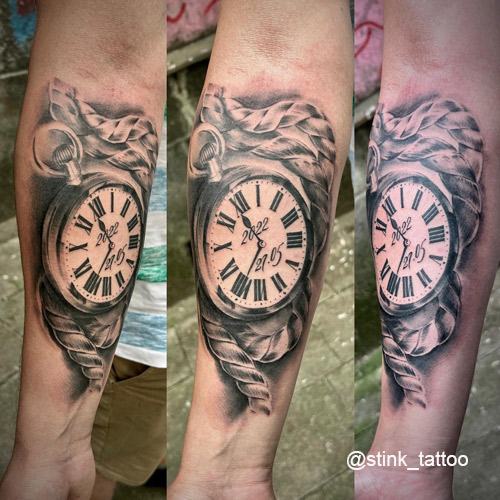 As mentioned before, tattoos are a powerful way to tell your story. This clock and rope tattoo definitely has a unique and personal meaning.
The clock shows the time at 11:40 and has the date 27/05/2022 added on its face, which must be an extraordinary time and date for the wearer. Ropes in tattoos often depict stability, security, and a forever loyalty to the things you hold dear.
We can only speculate that this tatt means the beginning of a new era based on an event that took place on the etched date—but what we know for sure is that it's a conversation starter.
Customize this tatt by adding the date of a life-changing experience and spark conversations easily with strangers.
You can also copy the positioning on the forearm since it's unlikely to hide significant muscle gains.
4 - Bird and Skull Tattoo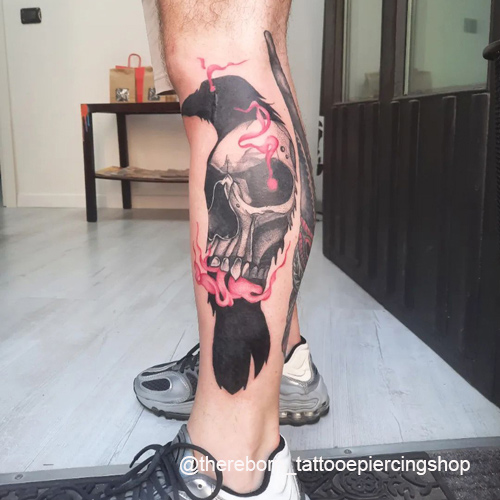 Getting inked on your calf is a cool way to show off your calf musculature.
This bird and skull tattoo with colored flames creates a detailed and unique design. Each of these elements has the following meaning:
Bird: Physical and spiritual freedom
Skull: Overcoming difficult obstacles like death
Flames: Life, death, and remembrance
This tatt is worth copying because of its long, narrow, yet detailed design is perfect for those large but tapered areas of your body. Similar designs will also work well on:
Arms as full or half sleeves
External obliques (aka the sides of your abs)
One side of your upper body
The table below shows long and detailed tattoo designs worth copying on each of the aforementioned areas.
5 - Floral Tattoo Designs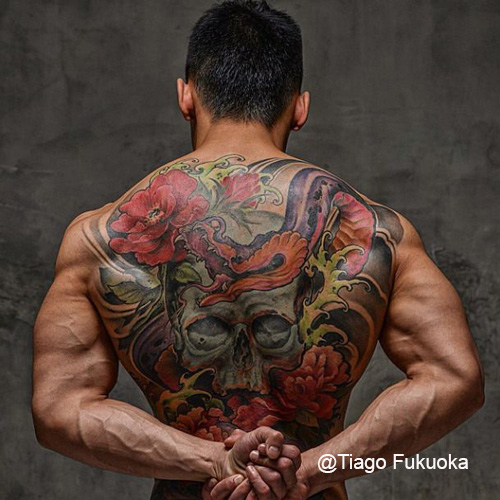 Who says flower designs are reserved for women? Bodybuilder men can also get floral tatts.
This detailed tattoo has flower and skull designs inked on the back, which helps the bare biceps' mass and peak stand out.
Flower designs symbolize happiness and positivity and are also a sign of beauty, while the skull represents life and death. Combined, these two designs are a beauty to behold and symbolize the beauty that can be found in life and death.
This colorful tatt will soften your badass warrior look and prove you appreciate beautiful things in life.
6 - Minimalist Designs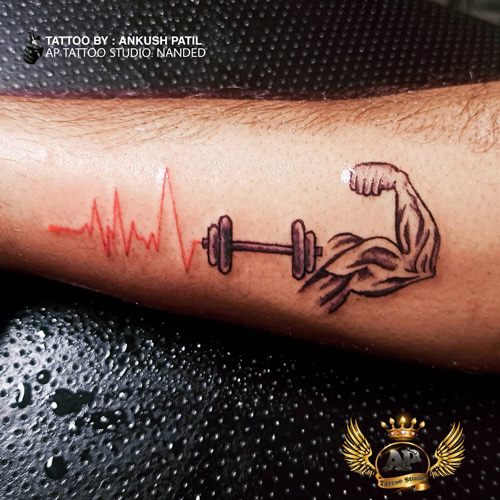 Small and meaningful tattoos are a safe bet for bodybuilder men involved in competitions. They are often smaller than 6 square inches, so you can get them anywhere on your body without worrying they'll cover up muscle definition.
Some minimalist tattoo ideas include:
Motivational quotes such as "Live, love, and lift"
Simple drawing of an animal or flower
7 - Animal Tattoo Designs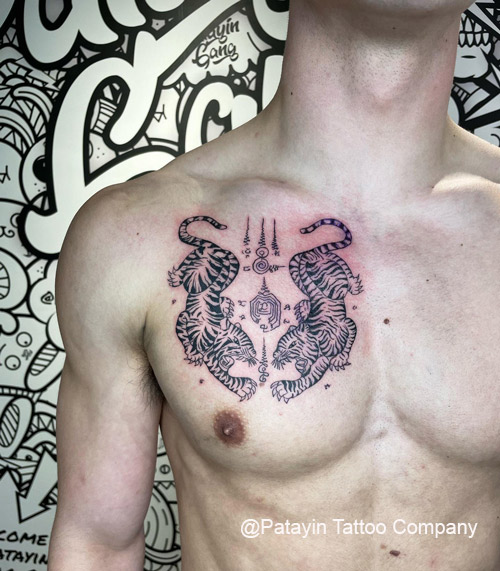 Draw inspiration from this Thai-inspired tattoo that represents strength, protection, and power over one's subordinates. The twin tigers represent strength and power, as two fighting tigers would in reality.
This tatt is thought to help wearers gain the mental resolve to overcome any obstacles they may face in their dealings. It will work well for you since it's a source of inspiration during strength training.
Its positioning on the pecs will draw attention to your shoulder width and defined chest and abs.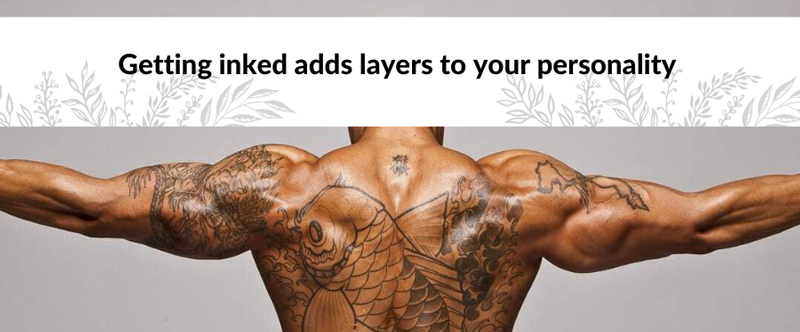 Revive and Care For Your Ink With KOYA Tattoo Lotion
Once you get inked, it's important to take care of your tattoo to ensure it heals properly. For that, we have the KOYA Tattoo Lotion that soothes fresh tattoos, enabling them to heal faster.
Our lotion is made with all-natural plant ingredients, including:
Vitamin E: Helps with wound healing by promoting the production of collagen.
Ginkgo biloba: Contains antioxidants that protect your skin from damage by free radicals.
Horsetail: Improves the skin's appearance by minimizing large pores and tightening the skin.
These natural ingredients make the lotion suitable for daily use (2–3 times a day) to soothe your fresh tattoos.
What's more, it contains no nasties or artificial fragrances that can irritate the sensitive skin on your fresh tattoo.
Our tattoo lotion is, additionally, super-light and absorbs quickly into the skin, leaving no sticky or greasy feeling.
"It's super moisturizing and doesn't irritate my skin. There's no scent; a little goes a long way and doesn't leave any residue."
— Samantha Poh
Order your first bottle of KOYA Tattoo Lotion to calm and nourish your freshly tattooed skin.
Share on Facebook: