There are many ways to demonstrate your eternal love, but getting matching tattoos is one of our favorites. Getting inked together with a loved one is an amazing bonding experience.
It allows you to explore and express your creativity as you choose or design a tattoo together.
But most importantly, getting matching tattoos makes a bold statement about your relationship and is a great way to show the world what your significant other means to you.
Today, we'll explore some of our favorite matching tattoo ideas, perfect for showing your undying love, and a few products that will help keep your tattoos looking great for just as long.
These tattoo options include:
Tattoos that show eternal commitment between two partners
Tattoos inspired by myths—perfect for romantics
Tattoos with hidden meanings for your partner
Tattoos with simple designs and poignant symbolism
Table of Contents
1 - Matching Finger Tattoos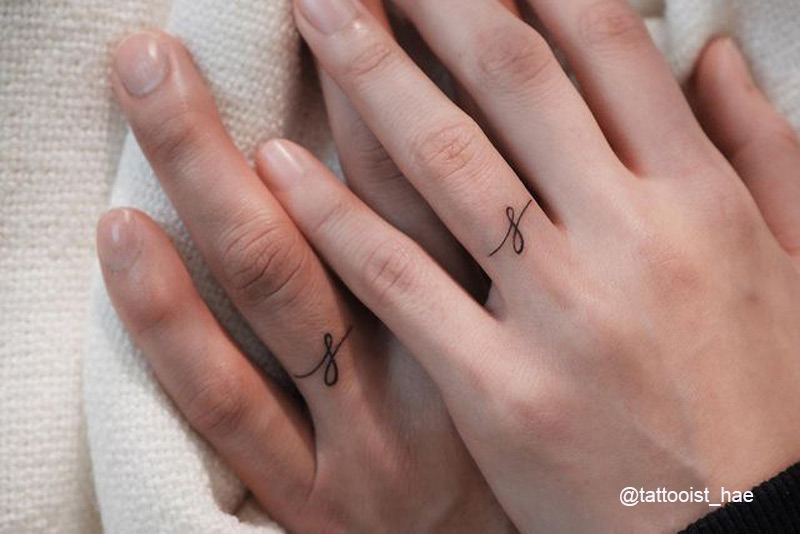 Ancient Romans believed that the ring finger—the fourth finger on the left hand—contained a vein that ran straight to the heart. They called this vein vena amoris.
It's believed that this is why wedding rings are traditionally worn on this finger, even to this day.
Keeping with this tradition, couples are now starting to get matching tattoos on their ring fingers in place of, or in addition to, actual wedding bands.
For the same reason wedding rings are worn on this finger, choosing to get matching tattoos on your ring finger is incredibly romantic.
The tattoo design can be anything of significance to you and your relationship. For instance, you could get your partner's initials tattooed around your finger, or opt for a meaningful symbol of your relationship and shared affection.
See Also: 4 Must-Have Tattoo Aftercare Products to Avoid Scarring
2 - Soulmate Tattoos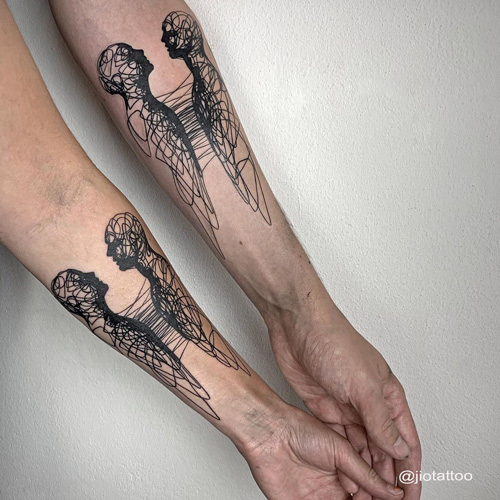 Russian tattoo artist Jio Maia is renowned for her unique and complex matching tattoos and the story that inspires them—the myth of Aristophanes as told by Plato—which tells us about the origin of soulmates.
According to the myth of Aristophanes, humans used to be joined at the spine. They were born soulmates, sharing one body so they could be together forever.
But an angry god cut the soulmates' shared body in half, separating them and forcing all of humanity to have to search for their soulmate.
Jio's tattoo designs celebrate the idea of finally finding your soulmate in a unique and intricate design that can be described as Line Art or Chaotic Blackwork.
3 - Yin Yang Tattoos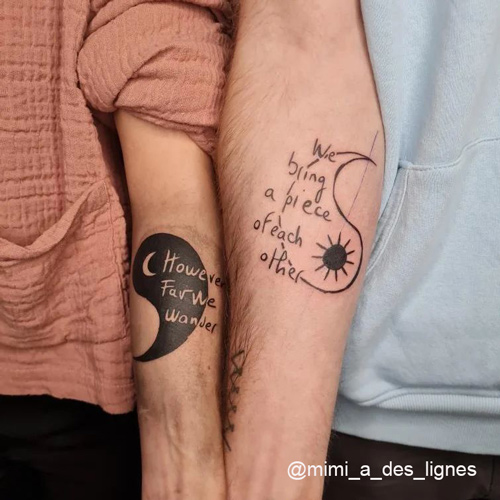 Yin Yang is an ancient Chinese philosophical concept that symbolizes two different halves that fit perfectly together to create a complementary whole.
Yin is thought to represent feminine energy while Yang represents masculine energy, and together they make a perfect circle.
Matching Yin Yang tattoos are perfect if you and your partner are different in ways that balance and complement one another, making the relationship greater than the sum of its parts.
4 - Hidden Meaning Tattoos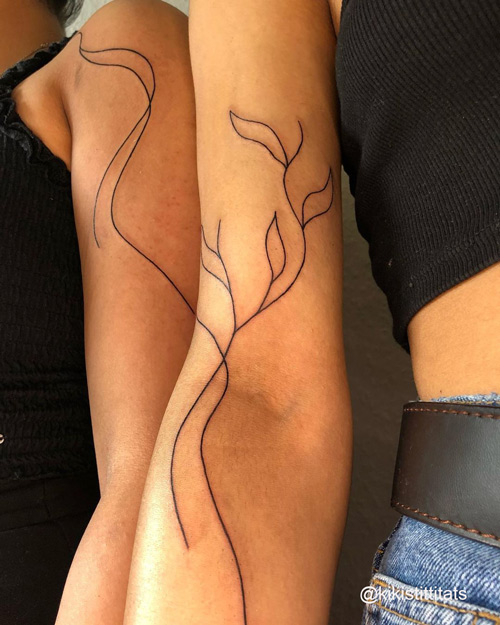 Every tattoo is meaningful, but these types of matching tattoos are a little more abstract than others.
Hidden meaning tattoos are unique and represent something specific to your relationship with your loved one.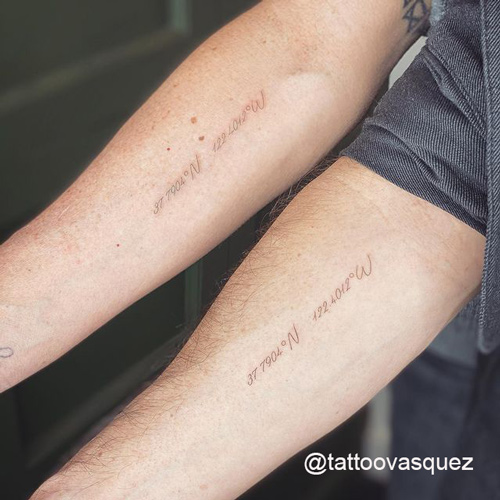 For instance, geographic coordinates are commonly used in matching hidden meaning tattoos among couples. Some popular examples include the coordinates where a couple first met, first fell in love, or where they spent their honeymoon.
Alternatively, the hidden meaning of a tattoo can be a secret that only the two of you share.
5 - Matching Quote Tattoos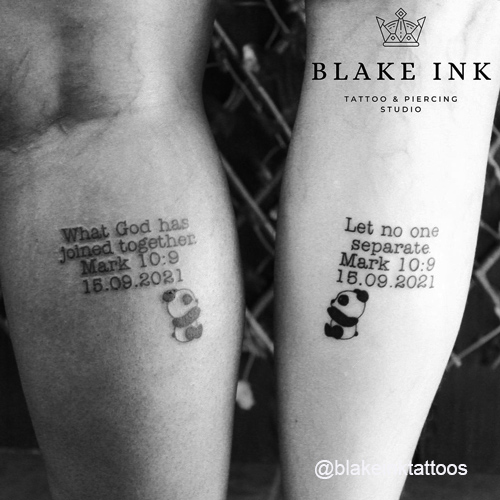 There's no shortage of poems, novels, movies, or songs about love.
It's not uncommon for a line from any one of these sources to sum up a couple's philosophy about love or their relationship.
If this rings true for you, a quote may be the perfect idea for a matching tattoo design between you and your partner. You could both get the same tattoo, or you could split the quote between the two of you.
This way, the quote is only complete when you're together.
See Also: How to Care For My Tattoo: 4 Easy Hacks for First-Time Inkers
6 - Matching Heart Tattoos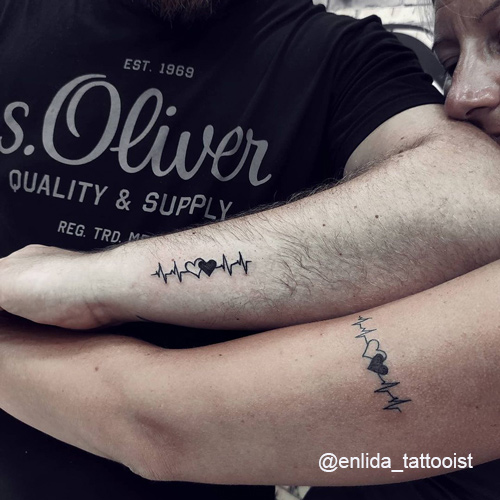 The word "love" and the symbol of the heart are some of the most popular tattoos used to express undying love among couples.
For the romantic and sentimental types, it's all about wearing your heart on your sleeve—sometimes literally.
Matching love or heart tattoos cannot be misinterpreted. They make a permanent and bold statement about what's most important to you as a couple.
They're a simple, powerful, and iconic promise of forever love.
7 - Semi-matching Tattoos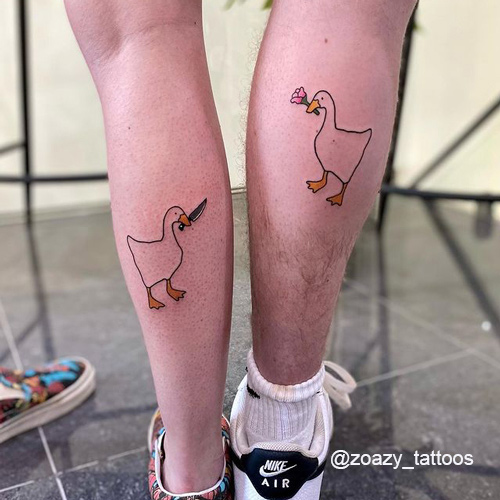 Sometimes, your matching tattoos don't have to be identical. Instead, you can have "two pieces of a puzzle" that compliment or complete each other.
Semi-matching tattoos look as good together as they look separately.
They're also easy to customize and match your different tattoo aesthetics. Say one wants more shading or bolder colors this could be done without ruining the intent of getting matching tattoos.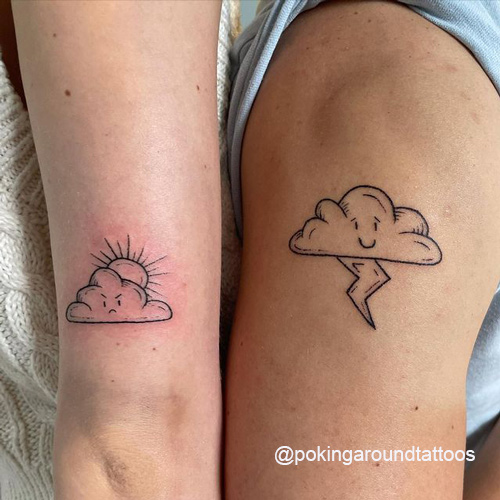 8 - Infinity Tattoos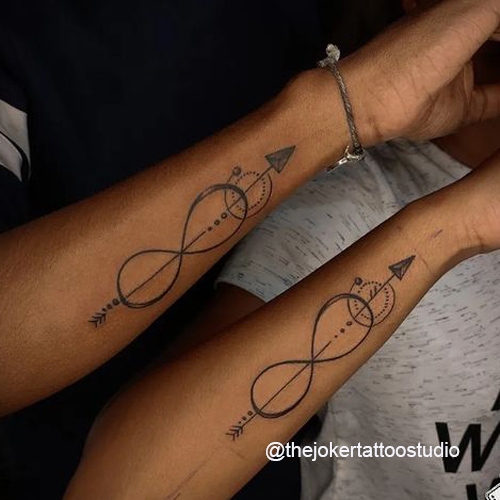 The infinity symbol is a never-ending loop with neither beginning nor end—a symbol representing eternity. As such, matching infinity tattoos are perfect for depicting eternal love.
The symbol is an apt metaphor for how love is limitless, has no boundaries, and will continue forever.
Matching infinity tattoos are poignant and deeply meaningful acknowledgments of the love and bond a couple shares. Better still, they're unisex in design, which makes them perfect for any couple.
9 - Matching Anchor Tattoos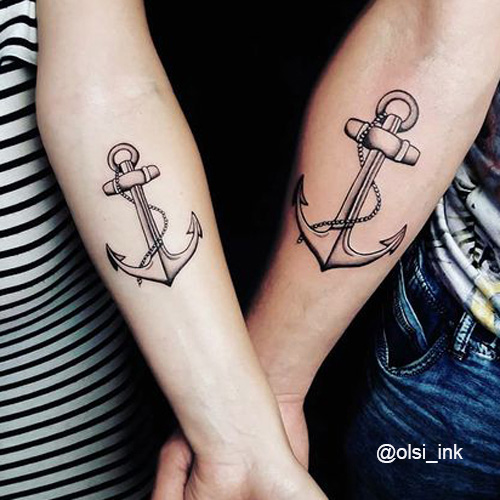 Among couples, matching anchor tattoos signify that you've found your safe harbor in each other.
When ships drop their anchors, it signifies that their days of wandering the rough seas are over. They've arrived at their destination and have discovered calm waters. It's smooth sailing from then on.
Anchors are also a romantic take on the traditional sailor's tattoo, symbolizing hope, salvation, and calmness—all qualities you'd want in a partner.
10 - Minimalist Tattoos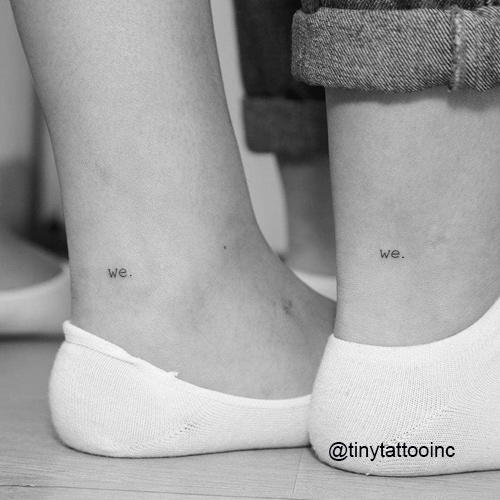 Minimalist tattoos are perfect if something quick and subtle is what you're looking for. Remember, with more intricate designs you can easily spend hours getting inked.
Minimalist tattoos are great if you and your partner have different styles. Minimalist tattoos are simple and often agreeable to everyone.
But this isn't to say that they're any less clever or meaningful. They're all about symbolism and odes to what you both hold dear.
A classic minimalist matching tattoo idea is the "x" and "o" —because sometimes that's all you need to get the message of forever love across.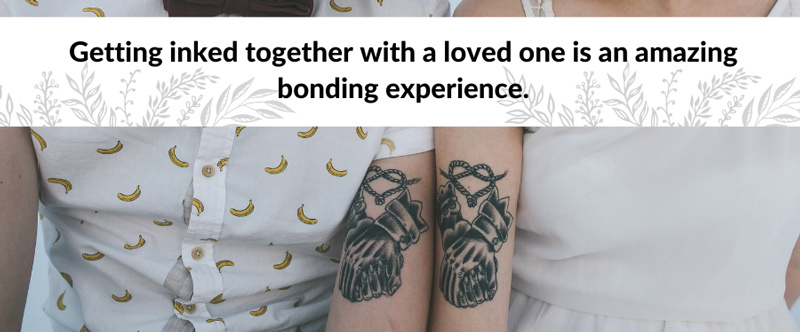 11 - Favorite Movie Character Tattoos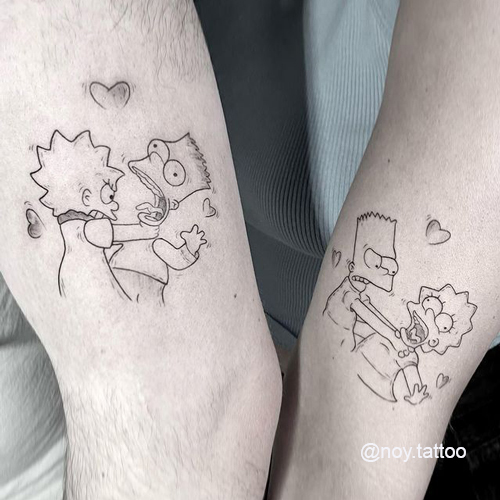 Is there that one movie or animation you and your lover can't get over?
It could be because you both related so well to the characters or there's one line you picked up and now swear by.
Have this—the character, favorite line, or both—tattooed together. It's cute, funny, very sentimental, and a corky way to express your love for each other.
Help Your Love Tattoos Last Forever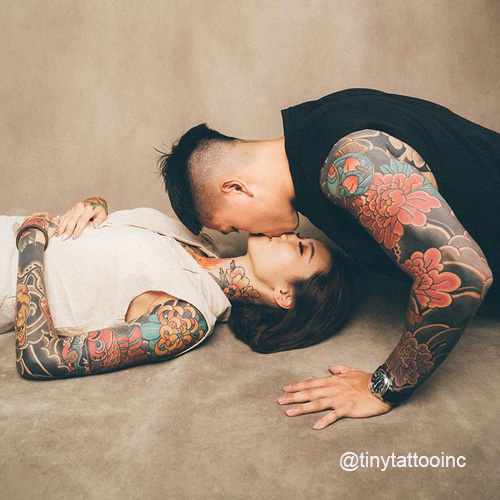 So there you have it, our favorite tattoos for demonstrating a couple's commitment to each other and their unyielding love.
But before you get tatted up (and even if you already have some forever love ink), it's essential to consider your skincare routine and how to keep your tattoo looking great.
After all, just like relationships, your tattoos—and, by extension, your skin—need care and nourishment to look great and stay healthy.
This is where KOYA Skin comes in.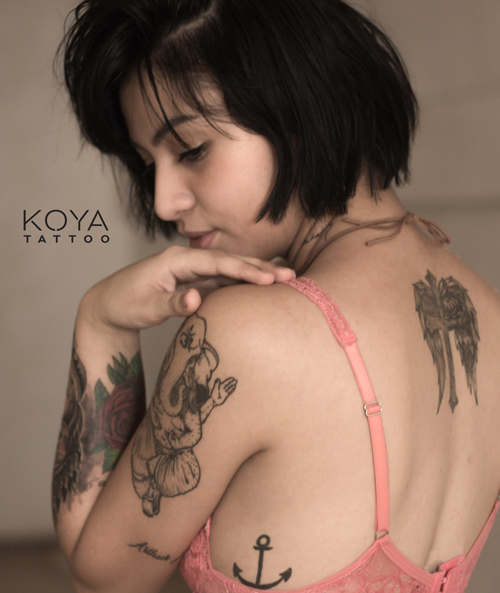 KOYA Skin is a skincare line of residue-free body lotions for people with active lives. It allows them to care for and nurture their skin.
A big part of our skincare line is KOYA Tattoo Lotion and Aftercare—a unique vegan-based, fragrance-free tattoo lotion specially formulated to care for fresh ink. It's also perfect for daily skincare to nourish and keep your existing tattoos looking as fresh as the day you got them.
"Without a doubt, the best tattoo revitalizing cream I've ever used! Unbelievable how it has transformed my 5-15yr old tats to looking like they were done last week."
— Kevin Savery | ★★★★★
KOYA Tattoo Lotion accomplishes this using natural ingredients, which include:
Vitamin E: Which helps your tattoos heal and restores your skin's natural glow. It's also known to support the immune system, improve cell function, and boost overall skin health.
Ginkgo Biloba: This is known for its soothing and anti-inflammatory properties, perfect for helping your tattoos heal. Ginkgo Biloba is also packed full of antioxidants which help restore your skin.
Horsetail: A powerhouse skincare ingredient from Eastern medicine, horsetail is a rich source of antioxidants and has antimicrobial and antibacterial qualities.
Additionally, these natural ingredients are a big part of what sets our products apart from other tattoo care products. But that's not all. Consider this comparison between KOYA Tattoo Lotion and a typical store-bought lotion.
| | | |
| --- | --- | --- |
| Feature | KOYA Tattoo Lotion | Generic Tattoo Lotions |
| Vegan formula | ✔ | ✘ |
| Enhances body art | ✔ | ✘ |
| Non-greasy | ✔ | ✘ |
But don't take it from us; countless customers have experienced the goodness of KOYA Tattoo Lotion and given us positive reviews. Here's what some of them had to say.
"Super moisturizing and doesn't irritate my skin. There's no scent; a little goes a long way and doesn't leave any residue/feeling."
— Samantha Poh | ★★★★★
"Absolutely loving this product so far. It's hydrating [and] … gives a fresh look back to old tattoos. Super excited to try it on a fresh tattoo to see its full potential."
— Georgia Allen | ★★★★★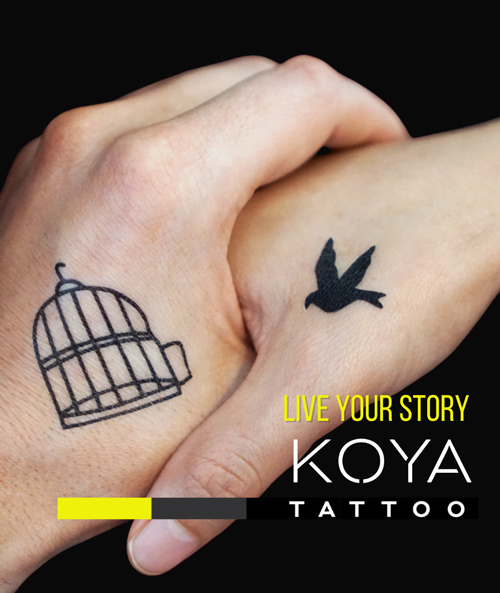 Add KOYA Tattoo Lotion to your skincare routine today and keep you and your partner's forever love tattoos looking great forever.
You can also visit our online store for more from KOYA Skin.
| | | |
| --- | --- | --- |
| KOYA Sensitiv+e | KOYA Tattoo: Sensitiv+e | KOYA Australian Lemon Myrtle |
Share on Facebook: